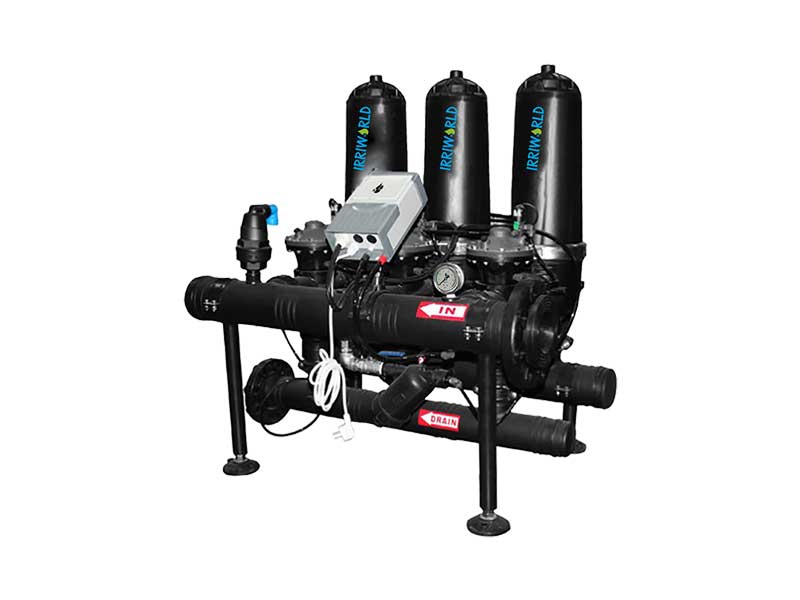 With the unique disc and vortex structure design, the filter will generate a centrifuge spiral flow of water, which moves away the solid particles in the water. The solid particles will be collected to the top of disc element with rotational flow. The vortex disc filter system ensure high efficient filtering and water-saving for the low frequency of backflushing.
Manufactured in Polyamide, providing resistance to chemical products and wear
Integrated controller with built-in chips for collecting water pressure data, enabling unmanned automatic performance
Flexible modular combination to meet various application requirements for flow rate
Continuous filtering ensures uninterrupted water supply during backflushing
Smart backflush auto-procedure setting based on the discrepancy of water pressure between the inlet and outlet
Manual setting available for regular backflushing procedures
Efficient water-saving achieved during auto-flushing with a minimum pressure of 2 bar and a flow rate of 2.5 L/s min.
Automatic disc filter system with a modular design
Offers T-type or H-type backwash modules to meet various market demands for different flow volumes
Compatible with 2″, 3″, or 4″ hydraulic backwash valves
Equipped with a built-in computer chip for automatic scheduling work
Functions as an automatic unattended water filtration system
Ensures continuous water supply while discharging sewage
Interested to buy? Let us know!